August Update: What did we do in August?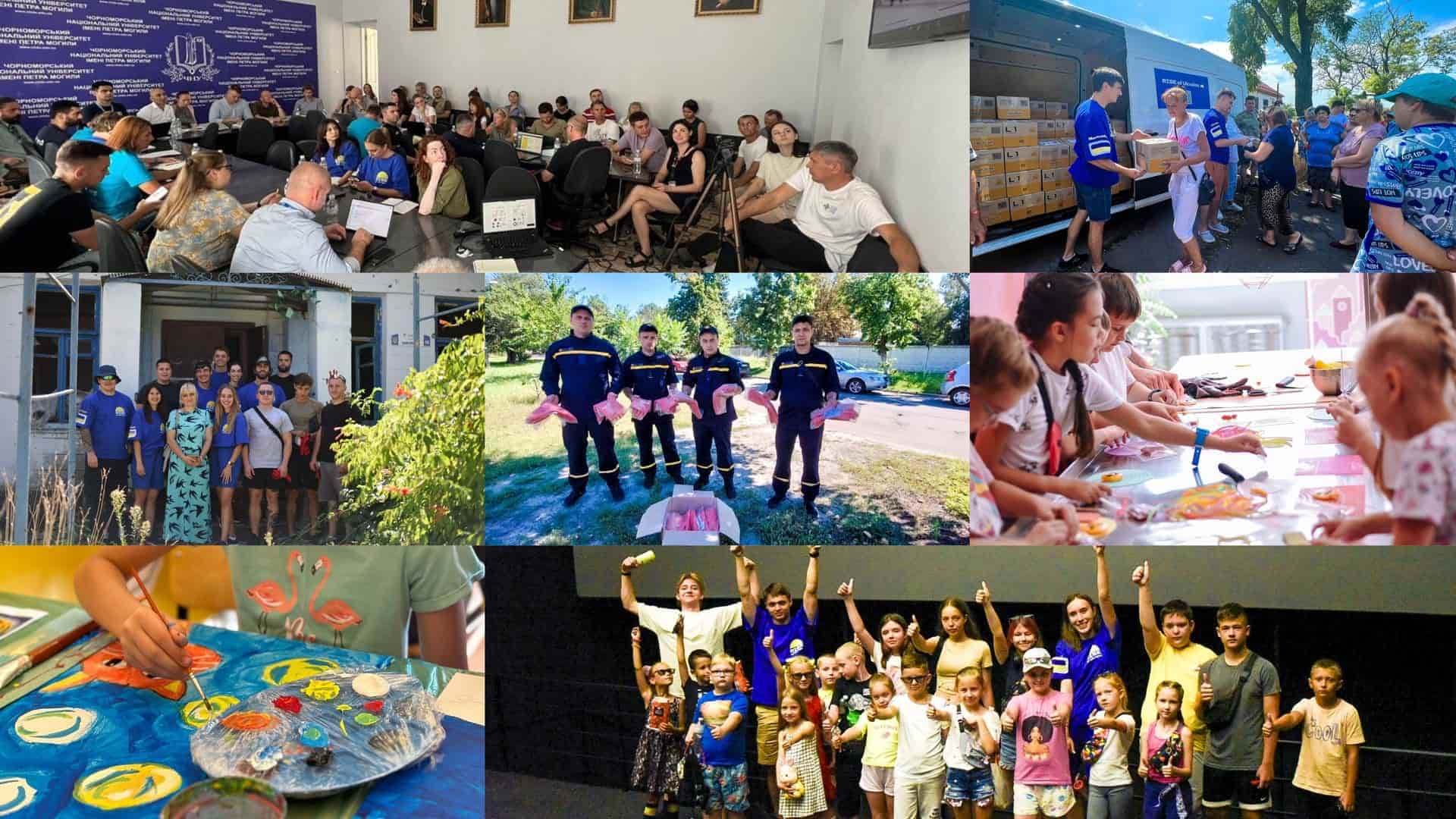 Another month of our continuous help and support to those in need has flown past 🫂
August was a very busy month for our team, and here is what we managed to do 🙌🏻
1. Carry out 4 humanitarian missions:
To the Vysokopilska community, namely to the villages of Zarichne, Blagodatne, Maryne, Mykolayivka, Olhyne, Potemkino, Kniazivka, we delivered 350 humanitarian kits, water filtration equipment, which were donated by our partners AUFCA and UNION DES UKRAINIENS EN BRETAGNE.
To the Davydivka community and deliver 100 humanitarian kits, 37 packages of gifts for children, 300 liters of drinking water and 35 boxes of clothes and shoes to the villages of Devladove, Krynychky, Andriivka, Marie-Dmytrivka, Ordo-Vasylivka and Marivka.
Visit a shelter in Dnipro, where IDPs from Luhansk region live, to deliver 60 humanitarian kits and treat the kids to 24 packs of sweet corn sticks.
Visit the village of Kalynivske in Kherson Oblast to help clean the kindergarten before it is rebuilt and bring 500 liters of clean water to the locals.
2. To help the guys at the 3rd State Fire and Rescue Unit of the Main Directorate of the State Emergency Service of Ukraine in Luhansk Oblast and to send 20 pairs of dielectric gloves that will protect them from electricity while working in electrical installations.
3. Send clothes to the Dnipropetrovs'k Regional Clinical Center for Diagnosis and Treatment of DOR, where victims who have nothing are brought.
4. How can we do without events for our favorite kids? Every time, our team looks forward to new meetings and searches for something new to surprise the kids. So this month we:
5 times visited Planet Cinema and plunged into adventures on the big screen, crunched delicious popcorn, talked a little, enjoyed the cartoon "The Elements" and "Teenage Mutant Ninja Turtles" and made 100 IDP children happier.
Together with 39 IDP children, they became the masters of the glacial world and learned real sweet magic at 2 workshops of our new partner, Sweet Space Zukerville. Not a single little soul left without gifts: handmade lollipops and incredible emotions for life.
Visited the most unusual museum of interesting science "Udivlyandia" together with 17 IDP children. Everyone could change their perception of science, take part in scientific shows and experiment.
We graduated 2 groups of "Little Van Goghs", in which 20 children are ready to create, invent and show the world how they see the world around them after 4 classes. This is the 5th class of our graduates and we are happy and believe in the talents of future artists.
We also supported the youngest Ukrainians who, unfortunately, have known what war is since they were in diapers. As part of the 2 Days of the Baby, we helped IDP families who have recently been replenished with diapers, baby food and clothes.
September is on the way, so it's time to get ready for school, and we decided to help. 111 IDP children received stationery sets from Rise of Ukraine and are ready for their good grades and new knowledge.
5. We made an incredible good thing – a charity mission to the village of Kalynivske, Kherson region, where we, together with the Lutyi Charity Fund, cleaned up a kindergarten after the occupiers and flooding caused by the explosion of the Kakhovka hydroelectric power plant. We spent the whole day clearing the rubble and preparing the building for reconstruction, so that soon happy children's laughter could be heard there again.
6. Representatives of our team attended a meeting of the Kherson region of the UN Office for the Coordination of Humanitarian Affairs. There, charitable funds that help this area discussed helping children who still live in the occupied territory, providing street shelters, restoring electricity in more than 40 settlements, rebuilding damaged houses and providing construction materials for this. We also need to prepare for winter by procuring firewood, coal, briquettes, and fuel.
And the main issue is to drill a well. After all, the lack of clean drinking water is the main problem in the Kherson region.
We have done so many things, we have not been idle for a single day, and still we want to help even more and thus bring our Victory closer!
We are taking the first step into the fall and are already planning new good things.
Everything will be with Rise 💙💛